Developed by John Lees to supplement the exercises printed in How To Get A Job You Love, this card sort is now in its 4th edition. It helps you discover your motivated skills, and how to communicate them to decision makers.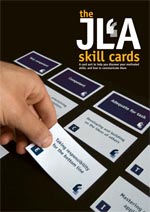 The JLA Skill Card toolkit is designed to help you identify your motivated skills, i.e. the things you are good at and enjoy performing. A full range of exercises are provided, enabling you to communicate your skills in terms of career highlights and achievements.
The cards and associated exercise have been revised and improved several times , and are used by career coaches and career changers all over the world.
The exercises contained in the explanatory booklet are designed to be used by coaches, trainers or by individuals who want to gain more awareness of their skills, which are broken down into five categories: People skills, Information Skills, Skills using Things (equipment, physical skills), Enterprise skills (leading organisations, initiating and leading projects) and skills around Concepts and Ideas.
The Skill Cards cost £22.95 per set (inc VAT & UK postage – see drop-down menu for delivery prices overseas). Click on the above link to order one or more sets, using credit card or Paypal, or email us for discounts on orders of 10+ sets.