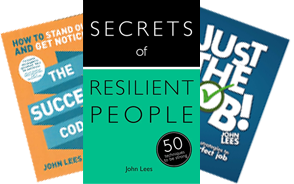 John is the author of several bestselling books
John is one of the UK's best known career coaches and authors. He specialises in helping people make difficult decisions - difficult because they don't know what to do next, or because there are barriers in the way of success. John currently has eight books in print.
Praise for How To Get A Job You Love:
This book is a treasure. Read it, devour it, use it, and find that job you once dreamed about but had almost given up on.
Dick Bolles, author of What Color Is Your Parachute?
A great book, full of insight and practical ideas. We spend much of our lives at work. It is important for us, and those around us, that we enjoy and are fulfilled by our work. And productivity and creativity come when we are passionate about our work. If you are not, work out how to be, read John's book.
Gill Rider, President, Chartered Institute of Personnel & Development
have a look at all of John Lees books